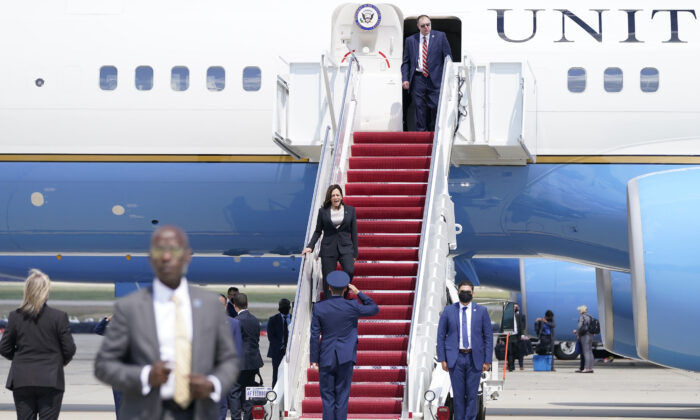 Vice President Kamala Harris is greeted by United States Air Power Lt. Col. Neil Senkowski as she deplanes Air Power Two after a technical difficulty pressured the plane to return and land at Andrews Air Power Base, Md., on June 6, 2021. (Jacquelyn Martin/AP Photograph)
JOINT BASE ANDREWS, Md.—A technical difficulty that concerned "no main security considerations" pressured Vice President Kamala Harris' aircraft to return to Joint Base Andrews in Maryland about half-hour after she had left Sunday on a visit to Guatemala and Mexico. The aircraft landed safely and she or he gave a thumbs-up when she acquired off.
"I'm good, I'm good. All of us mentioned a bit prayer, however we're good," she mentioned.
The vice chairman departed in one other aircraft about an hour and a half later.
Her spokesperson, Symone Sanders, informed reporters touring with Harris that it was technical difficulty with the unique aircraft and there have been "no main security considerations."
By Alexandra Jaffe