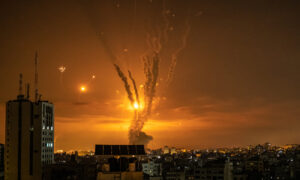 Commentary
Nationally syndicated radio host Dennis Prager has usually noticed that if the Israelis have been to put down their weapons, Israel can be destroyed tomorrow, but when the Palestinians have been to put down their weapons, there can be peace tomorrow. It has at all times been thus.
The newest flare-up of violence between Israelis and Palestinians is not any completely different. The proximate causes are a thorny mixture of an abstruse housing dispute in northeastern Jerusalem, deceitful Palestinian slander about an ostensible menace to Al-Aqsa Mosque, the destabilizing nature of Israel's present home political morass and the contemporaneous American appeasement in Vienna of the Palestinians' preeminent jihad bankroller, the Islamic Republic of Iran. However the rapid aggressors, as per common, are clear: Hamas, the internationally acknowledged Gaza-based terrorist outfit whose founding constitution requires the homicide of each Jew worldwide, and the Fatah-dominated Palestinian Authority, dominated in profoundly corrupt style by serial jihad-inciter Mahmoud Abbas, a Holocaust denialist now within the sixteenth yr of his four-year time period.
The end result has been the worst bout of bloodshed for the reason that final full-scale Israel-Hamas struggle in 2014. Hamas has fired 1000's of rockets into the Jewish state, searching for—and, tragically, often succeeding—to inflict maximal hurt upon Israel's civilian inhabitants. Hamas' rockets don't discriminate on the premise of age, race, or faith: Victims embody an Israel Protection Forces soldier, a 6-year-old boy within the oft-targeted Gaza border city of Sderot, and a 32-year-old Indian nationwide within the southern Israeli metropolis of Ashkelon. One can be ready in useless for Black Lives Matter, or different main institutional wokesters and intersectional shakedown artists, to reconcile such calamities with their professed rules.
In terms of some contentious points, dogmatic ideology or blind zeal can forestall cheap folks from assessing a state of affairs by way of the lens of prudence, which Aristotle acknowledged because the queen of the virtues. However this doesn't apply to the plight within the Levant—to the Palestinians' century-long civilizational jihad to destroy the world's sole Jewish state. On this newest spherical of recriminations and escalations, there's a facet that's in the suitable and a facet that's within the flawed.
Israel, a first-world nation-state and world technological hub with ascendant geopolitical and diplomatic clout, is in the suitable to train its sovereign proper to defend itself from the predations of a thuggish Palestinian Authority and a genocidal Muslim Brotherhood offshoot; Ramallah's deceitful inciters of Temple Mount jihad and nationwide anti-Jewish pogroms, together with Hamas' murderous petty tyrants, are within the flawed. To anybody with a functioning ethical compass, this stark dichotomy must be intuitive and apparent.
Alas, this previous week has highlighted simply how completely wicked the leftist ethical compass really is. Rep. Ilhan Omar (D-Minn.), a longstanding anti-Semite and co-founder of Home Democrats' de facto Hamas Caucus, outrageously tweeted that Israeli air strikes in Gaza in opposition to army targets amounted to "act(s) of terrorism." Omar's accomplice in crime and Hamas Caucus co-founder Rep. Rashida Tlaib (D-Mich.) joined within the intersectional enjoyable, opining, "What they're doing to the Palestinian folks is what they proceed to do to our Black brothers and sisters right here" in the USA.
Ben Rhodes, the failed novelist-turned-former Obama staffer who attained outsized notoriety in foisting the vile Iran nuclear deal upon an American polity that rightfully opposed it, seized the second to not stand in solidarity with our Israeli allies however to overtly muse what the world seems to be like "by way of the eyes of a Palestinian little one." Twitter CEO Jack Dorsey, in the meantime, noticed no obvious contradiction in sustaining his everlasting ban of former President Donald Trump whereas imposing a mere 12-hour suspension on Hamas chief Ismail Haniyeh for celebrating the "bombing of Tel Aviv," and offering a platform for blue-checked Hitler nostalgia to percolate.
President Joe Biden took a really very long time to concern a mealy-mouthed assertion defending Israel's "proper to defend itself"—a patronizing speaking level that might by no means be trotted out about another sovereign nation on this planet. And a galling proportion of elected Democratic senators and congressmen, extra typically, droned on concerning the want for Israel to train restraint whereas studiously avoiding any condemnation in any way of Hamas.
The American left and the media organs it controls are exporting their paroxysms of "1619 Mission" rage onto a international stage, expiating their "white guilt" sins and armchair-quarterbacking a international battle on a cosplayed chess board. On this perverse cosplay, Israel (whose Jewish inhabitants is plurality-Mizrahi, which means of Center Jap, non-European descent) is the "white" Derek Chauvin; Hamas is the "brown" George Floyd. And the left is not going to let info or rudimentary morality get in the way in which of this most popular woke narrative, even when it means rising willingness to overtly facet with a terrorist group.
Josh Hammer, a constitutional legal professional by coaching, is an opinion editor for Newsweek, a podcast contributor with BlazeTV, of counsel at First Liberty Institute, and a syndicated columnist.
Views expressed on this article are the opinions of the writer and don't essentially mirror the views of The Epoch Instances.